BEAUMONT, Texas — There are three tropical areas the 12News StormTrackers and National Hurricane Center are watching keeping a close eye on the tropics, particularly a tropical disturbance called Invest 99L.
Invest 99L, which is in the Caribbean, will likely make it to the Gulf of Mexico this weekend. Atmospheric conditions are favorable for development. The next two storm names on the Atlantic list are Ida and Julian.
As of Thursday morning, it had a 90% chance of development over the next 48 hours.
It is trending west-northwest through the Caribbean. The overall track, intensity and final landfall remain uncertain, so we will want to watch this closely over the next few days as the models change.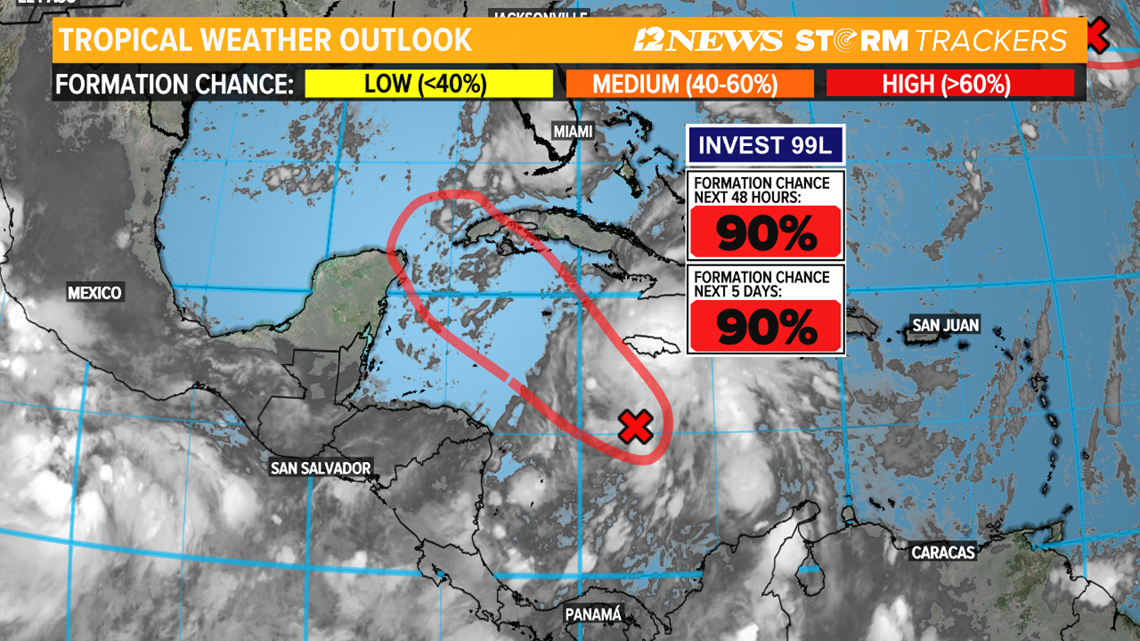 Credit: KBMT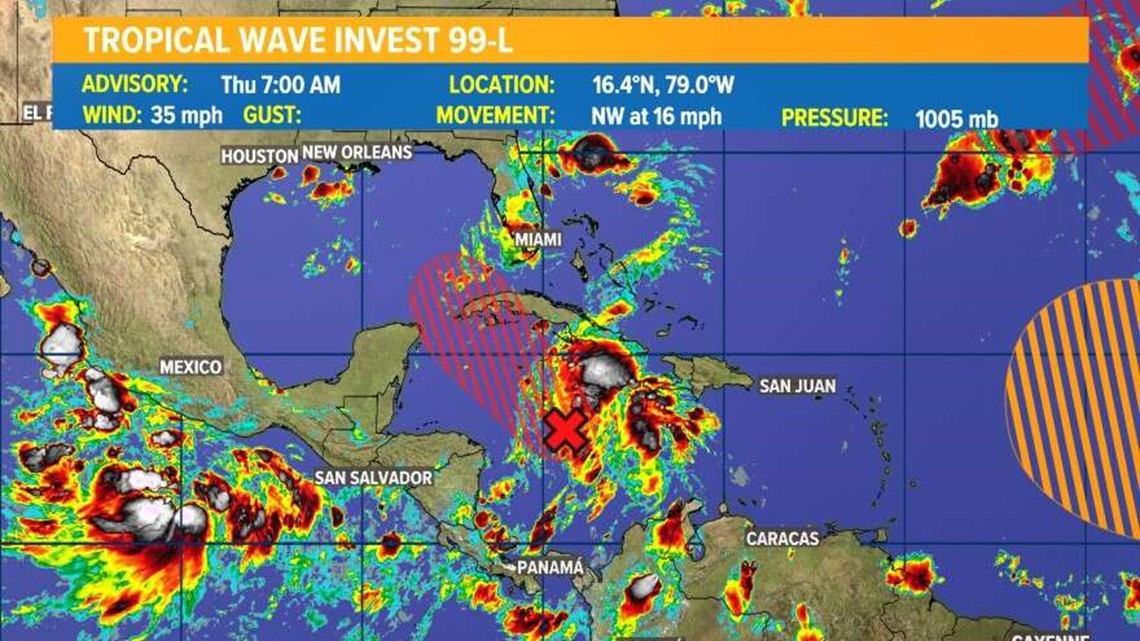 Credit: Tegna
Models are having a tough time understanding where this moisture is going to travel because it is hasn't developed yet. But the overall thinking as it moves west it will near the Gulf this weekend.
Thursday morning spaghetti models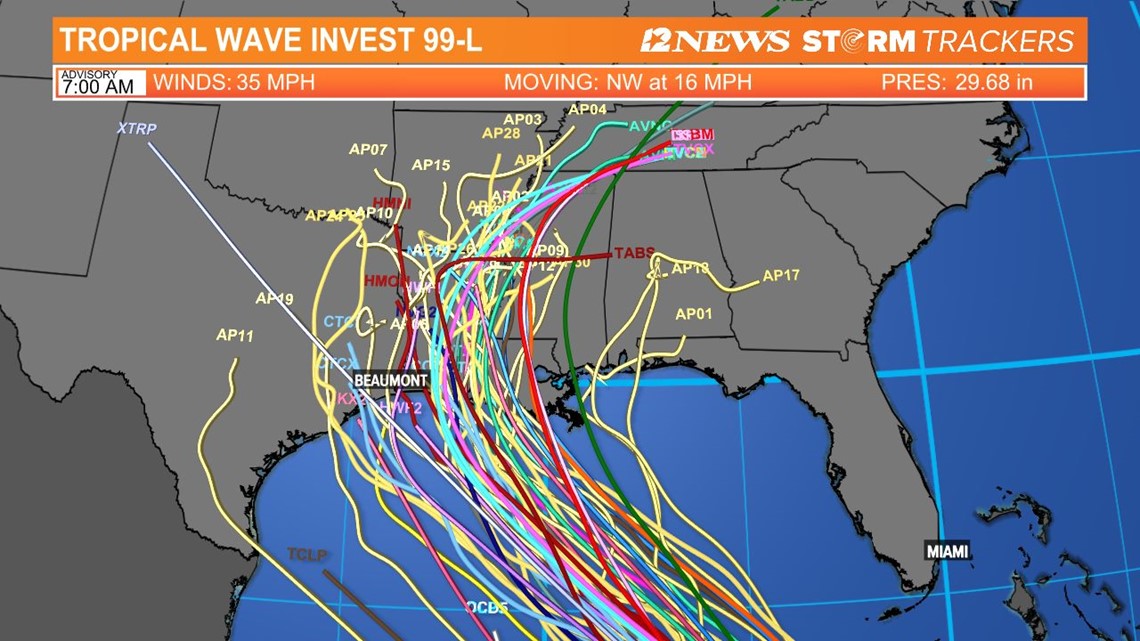 Credit: KBMT
From the National Hurricane Center at 7 a.m. CDT…
Disturbance 1: 90% Chance of Cyclone Formation in 48 Hours
Showers and thunderstorms continue to show signs of organization in association with a broad area of low pressure located over the west-central Caribbean Sea about 150 miles south-southwest of Jamaica.
Environmental conditions remain conducive for additional development, and a tropical depression or tropical storm is expected to form later today or tonight while the system moves northwestward over the northwestern Caribbean Sea, reaching the Cayman Islands tonight and western Cuba and the Yucatan Channel Friday and Friday night.
Given the recent developmental trends, Tropical Storm Warnings for the Cayman Islands and western Cuba could be required later this morning, and an Air Force Reserve reconnaissance aircraft is scheduled to investigate the system this afternoon.
Regardless of development, locally heavy rainfall and flooding are possible over portions of Jamaica and the Cayman Islands today and tonight, and will likely spread across Cuba and the Yucatan Peninsula on Friday.
The system is expected to enter into the Gulf of Mexico Friday night and continue moving northwestward toward the central or northwestern U.S. Gulf coast, potentially bringing dangerous impacts from storm surge, wind, and heavy rainfall to portions of the coasts of Texas, Louisiana, Mississippi, Alabama, and the Florida Panhandle by Sunday and Monday.
However, uncertainty in the system's exact track and intensity remains large since the low is just beginning to form.
Interests in these areas should closely monitor the progress of this system and ensure they have their hurricane plans in place.
Additional information on this system, including gale warnings, can be found in High Seas Forecasts issued by the National Weather Service.
Formation chance through 48 hours…high…90 percent.
Formation chance through 5 days…high…90 percent.
https://interactive.wtsp.com/mobile/tropicsmap.html
2021 Hurricane Season Outlook
The 2021 Atlantic Hurricane Season is forecast to produce more storms than average. The reason for this is the lack of El Nino, which typically features more wind shear. We also expect warmer than average sea temperatures and an active West African Monsoon.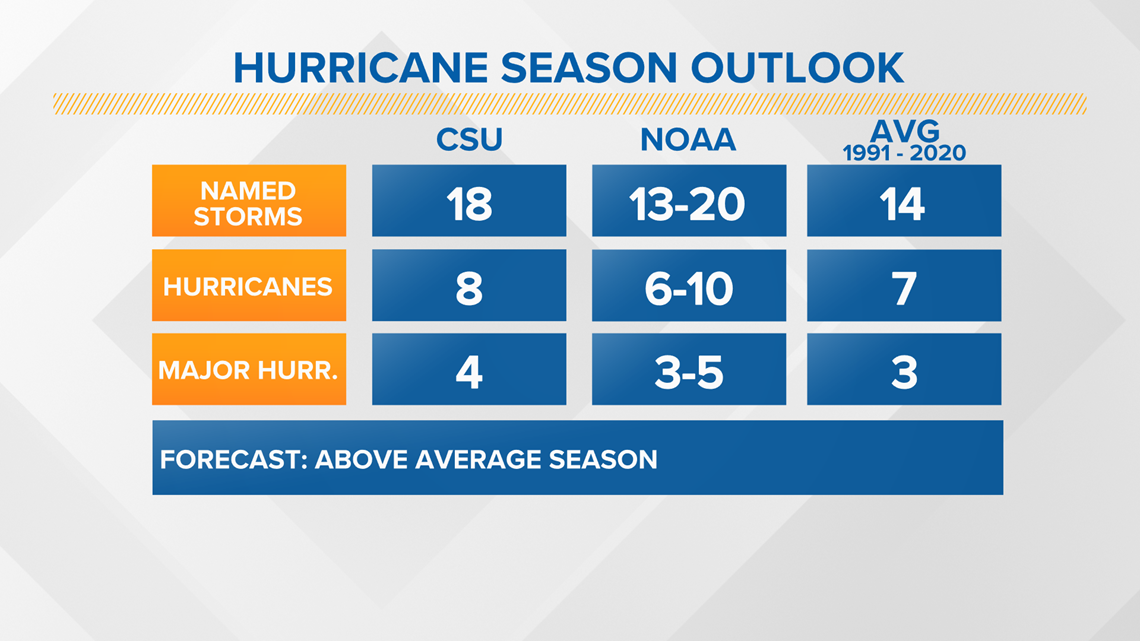 Credit: WWL2021 Hurricane Season Outlook
After a record-breaking 2020 hurricane season, we now know the Greek alphabet will no longer be used to name storms.
The World Meteorological Organization announced the Greek alphabet will not be used in the future because it "creates a distraction from the communication of hazard and storm warnings and is potentially confusing."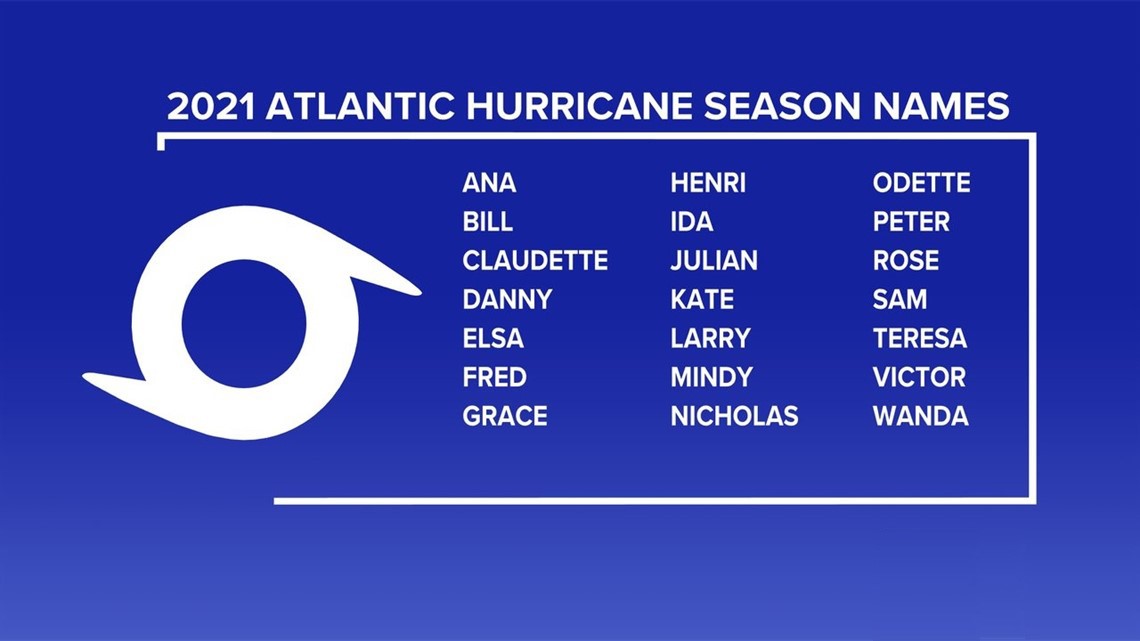 Credit: WWL2021 Atlantic Hurricane Season Names
There has been only one other season that used the extra set of names, and that was in 2005. The World Meteorological Organization released a new set of supplemental names that will be used if the season exhausts the standard list.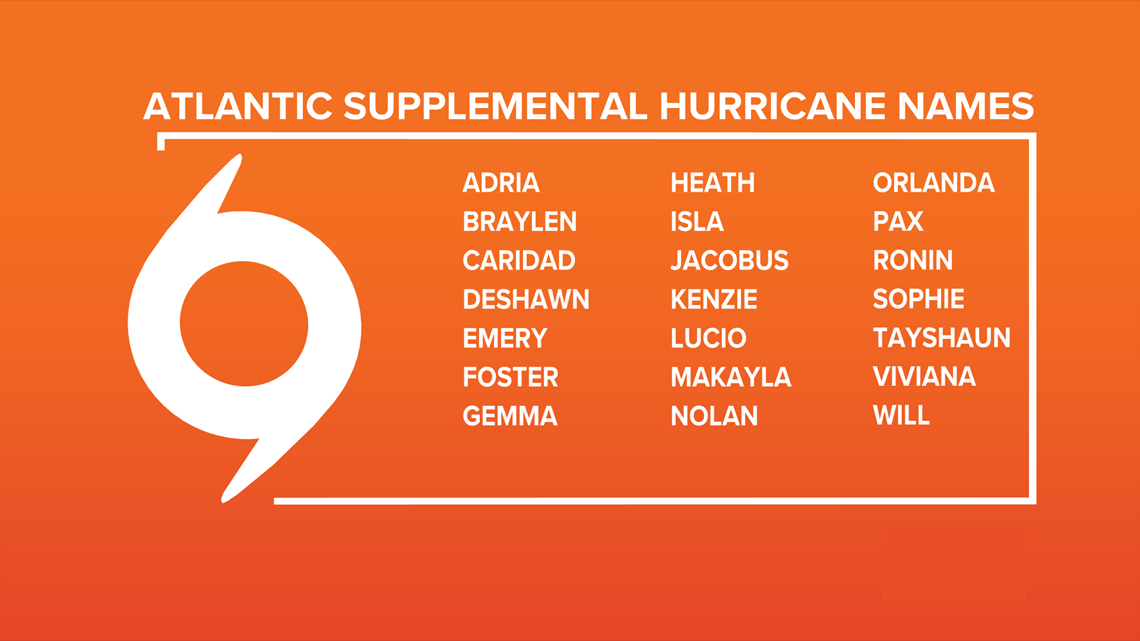 Credit: WWL2021 Atlantic Supplemental Hurricane Names
Be prepared if a storm comes our way
BEFORE THE STORM
Make a home inventory
Have a current copy of your declarations page that has your policy number and your agent's number
Review your policy with your insurance agent to determine if you have adequate coverage
Repair loose boards, shingles, shutters and downspouts to prevent them from becoming an issue in high winds or torrential rain
Have an evacuation plan, and include plans for your pets
Make sure your emergency equipment is in working order, including a battery-powered radio, flashlights and extra batteries. Also, make sure to gather all medicine, replenish your first-aid kit and stock a week's worth of non-perishable food and water
Charge your cell phone and fill your car with gas
Program all emergency phone numbers